Lightfastness tests
Make your own lightfastness tests, no matter how imperfect your conditions are, you will have your own experience about the behaviour of the pigments. Add a diluted color swatch where you can, since there is the color change often the most apparent.
2022
These swatches were behind east facing window from march to september.
Gouache

Naples yellow light [PW4, PY3, PY43]
Cadmium yellow light [PY35]
Yellow ochre light [PY43]
Cadmium orange light [PO20]
Madder lake deep [PR177] - the most diluted pink parts disappeared, color turned a little more warm and brown
Ultramarine red [PV15]
Ultramarine deep [PB29]
Phtalo blue [PB15]
Cobalt turquoise [PB36]
Helio gen green [PG7]
Oxide of chrome opaque [PG17]
Bohemian green earth [PG23]
Burnt sienna [PBr7]
Burnt umber[PBr7]
Iron xide black [PBk11]

05 Naples yellow reddish [PW6, PY42, PR7]
04 Chrome yellow orange [PO5] - turned less red, diluted parts got lighter
21 English red [PR101, PR254] - turned warmer, less pink
15 Violet lake [PV23]
10 Cyan [PB15:3]
11 Turquoise [PW6, PB15:3, PG7]
16 Brilliant green [PY1, PG7]
18 Sap green [PG8, PY42]
02 Chrome yellow pale [PY3] - no change despite looking lighter on the scan
19 Yellow ochre [PY42]
25 Vandyke brown [PBr6, PBlk11]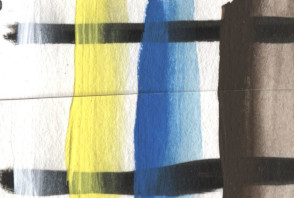 no change
Lemon yellow [PY3]
Primary cyan [PW6, PB15:3]
Burnt umber [PY42, PR101, PBk11, PBk7]
Dong-a poster color 2002

---
Watercolor

no change
205 Benzymidazole yellow [PY154]
236 Transparent oxide yellow [PY42]
211 Azo red [PR144] - slight change to warmer in the diluted part
239 Caput mortuum [PR102]
337 Idathrone blue [PB60]
338 Phtalo turquoise [PB16]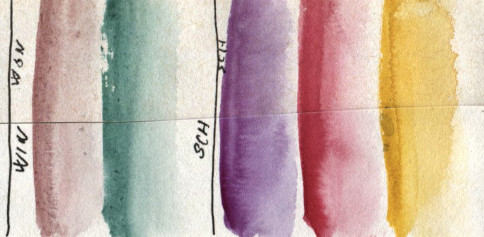 no change
Potters pink [PR233]
Viridian [PG18]
no change
Quinacridone purple
Permanent karmin
Chrome yellow deep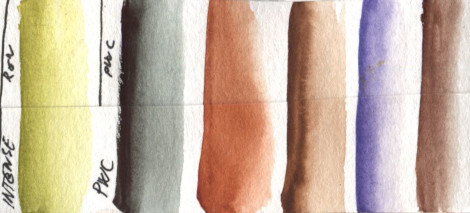 no change
48 Golden green [PY3, PG7, PY150, PY151, PBr6]
no change
593 Shadow green [PBk31]
663 Light red [PR101]
669 Burnt umber [PBr7]
My slate and brick watercolor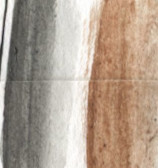 no change
---
Acrylics

no change
Yellow medium azo
Naphtol red light
Quinacridone crimson
Dioxazine purple
Ultramarine blue red shade
Cerulean blue hue
Phtalocyanine green blue shade
Yellow oxide
Transparent burnt sienna
Transparent aw umber
Ivory black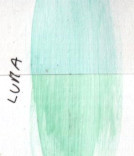 Pastel green - got lighter and cooler
---
Inks


Sailor storia Light brown - yellow component disappeared, red remained
Sailor kobe Okamoto pink
Montblanc Lucky orange
De Atramentis Apricot
Akkerman Oranje Boven
Pelikan Mandarin
Kwz Grapefruit
Noodlers Apache sunset
Noodlers Habanero
De Atramentis Document Dark blue - no change
Noodler's Heart of darkness - no change

blue (technical drawing)
violet (technical drawing)
magenta (technical drawing) - diluted part dissappeared, got warmer
red vermillion (artists' drawing, shellac) - diluted part got lighter
brown (technical drawing) - got much cooler
---
Markers

Lemon
Sunflower
Blush
Dusky Pink
Lime Green
Forest Green
Cloud Blue
China Blue
Cloud Blue
Azure
Plum
Berry Red

Neutral gray N1, N3, N5, N6, N7, N8, N9, 100 Black
Cool grey CG1, CG3, CG5, CG7. CG9, 120 Black
The Shinhan black remains unchanged
Acrylic markers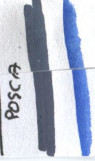 no change
Montana Lilac
Montana Blue Light
Posca Slate grey
Posca brush Blue
---
Liners, pens, brushpens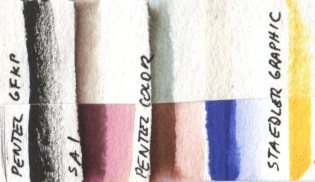 Pental GFKP
SAI Akashiya
Pentel Color Brush Brown
Pentel Color Brush Blue
Staedlers mars graphic 3000 duo Yellow
Ideenwelt 19 water colour paintbrush pens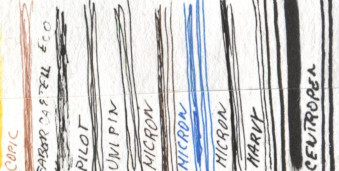 Ballpoint pens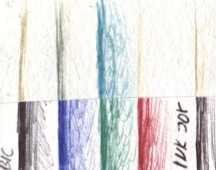 ---
Colored pencils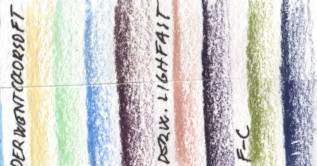 Cream
Pale mint
Blue
Blackberry

129 Pink madder lake
225 Dark red
268 Green gold
168 Earth green yellowish
165 Juniper green
156 Cobalt green
247 Idanthrone blue
141 Delft blue
40 Standard Gold
2 Light yellow
45 Light orange
353 Amaranth pink
15 Ice blue

3
4
28
29
5
6
7
10
8
11
13
19
17
20
18
24
26
25
22
30
506
33
2021
These swatches were outside for two and half months during summer. Direct sunlight was possible from early morning to early afternoon. They were not protected by glass, so the paper got a little dirty and wet during stronger storms, which is not ideal, but it was the best I had.
Gouache

703 Black intenso [PBk9]
506 Ultramarine deep [PB29]
566 Prussian blue (phtalo) [PB15]
616 Viridian [PG7]
227 Yellow ochre [PY42]
200 Yellow [PY74, PO67]
311 Vermillion [PR4]
318 Carmine [PR112, PR23] diluted color disappeared
411 Burnt sienna [PR101]

201 Naples yellow light [PW6,PY3, PY74, PY42]
206 Indian yellow [PY83, PO62]
312 Vermillion [PR4]
318 Bordeaux [PR170,PV19]
443 Ultramarine blue light [PB29]
438 Paris blue [PB15, PB15:1]
Primary cyan [PB15]
Primary magenta [PR122]
Primary black [PBk7]
---
Watercolor

557 Jaune brilliant 1 [PO20, PY74, PW6]
521 Shell pink [PR9, PW6] shifted to cooler pink, the diluted color disappeared
631 Lavender [PB28, PV15, PW6] diluted color got a little paler
548 Permanent yellow light [PY1]
510 Pyrrole red [PR254]
657 Permanent magenta [PV19] got a little warmer/duller
575 Hookers green [PG8] shifted to cooler green
667 Brown [PR101]
679 Van Dyke Brown 1 [NBr8] got a little paler and warmer
617 Cerulean blue hue [PB15:3]
622 Ultramarine deep [PB29]
629 Indigo [PB66] diluted color got paler and greener

Carmine [PR170:1] diluted color disappeared
Lemon [PY3]
Vermillion [PR255, PO73] got yellower, diluted part got much yellower
Permanent green lightest [PY3, PG7]
Aureolin [PY40] diluted part disappeared
Caput mortuum [PR 101]
Permanent alizarin crimson deep [PR206]
French vermilion [PR242]
Opera pink [PR122] just out of curiosity i wanted to see how fugitove this fugitive color is
---
Markers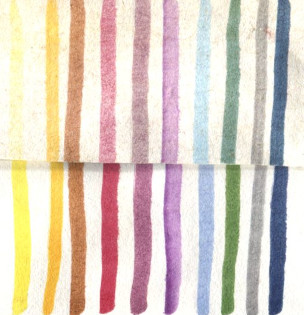 107 Cadmium yellow
109 Dark chrome yellow
188 Sanguine
127 Pink carmine
133 Magenta
160 Manganese violet
146 Skyblue
167 Permanent green olive
232 Cold grey III
247 Idanthrene blue
Colored pencils

I can see no change
Links
https://sunandcolors.com/
https://www.kimcrick.com/pages/fugitive-pigments-list-lightfast-test-problems-art-supplies